Grants Available
Since 2008, East Brighton Trust has given out over £500,000 helping fund everything from school minibuses to local festivals, OAP trips, gardening groups, children's playgroups and sports clubs.
East Brighton Trust have three types of grant programme available:
Small Grants of up to £500
Do you run a voluntary or not for profit community group in need of funds for new kit or supplies, room hire, travel or tuition?
Our small grants scheme helps to support around 50-60 East Brighton community groups and events every year, from art classes to sports sessions, youth clubs, charity events and much more!
We accept small grants applications at least twice a year so if you are involved in a group in Moulsecoomb, Bates Estate, Saunders Park, Manor Farm, Whitehawk, Craven Vale, Bristol Estate or Higher Bevendean and could use a grant of up to £500 to purchase new materials or run an event please sign up for our newsletter for a reminder of our next grants deadline. To find out who we've recently helped with our grant awards, read about where our funds go.
Please note: From Summer 2016 we have changed the way we accept small grants applications.
East Brighton Trust small grants are now processed through the Sussex Community Foundation, meaning we can benefit from their wealth of expertise and experience working with hundreds of local charities. Click here to submit your application or read more about it on our Frequently Asked Questions page.
The next deadlines are:
Friday 11th January 2019

tbc
Here are the details of our small grants programme and how to apply.
| | |
| --- | --- |
| | Small Grants |
| Amount | Up to £500 |
| Frequency | Deadlines in January, May & September - at least two funding rounds per financial year through Sussex Community Foundation |
| Purpose | Anything – equipment, trips, rent, running costs etc |
| Eligibility to apply | Only one application per group / organisation will be considered in any 12 month period.Only available to not for profit organisations ie charities, voluntary groups / organisations, companies limited by guarantee etc. |
The documents below provide all the information you need to assess if your organisation is eligible to apply for a grant as well as providing an application form.
To read the full application criteria and apply for a Small Grant via Sussex Community Foundation click here.
-----------------------------------------------------------------------------------
A former chair of the East Brighton Trust, Colin worked tirelessly over many years in numerous community roles in the area, including working with the Trust to award charitable funds to many local community groups.
Since he passed away suddenly in 2013, his legacy has lived on in the form of 'Colin's Random Acts of Kindness', which consist of allocating funds to give an extra helping hand to community groups in need. The first of these was a grant of £1000 given by the East Brighton Trust to FareShare, a charity who redistribute surplus food to support vulnerable people all over the city. Recent Random Acts of Kindness grants have been awarded to Look Sussex to support their youth club for visually impaired youngsters, to mentoring charity A Band of Brothers to send 6 young men from Whitehawk to carry out conservation work in the Calendonian forest, and to the Scouts to help set up a new group in Moulsecoomb.
-----------------------------------------------------------------------------------
Partnership Grants Programme
We've awarded over £30,000 as part of our 3-year Partnership Grants programme. Some key-anchor organisations in East Brighton have benefitted, including Moulsecoomb Neighbourhood Trust, Moulsecoomb Primary School, The Whitehawk Inn, The Bridge and the Environmental Project. In 2015, Partnership Grants were awarded to the BITE Youth Poets vs MCs team to run workshops at the Crew Club, 67 Centre and Brighton Youth Club, and to the Brighton Aldridge Community Academy to support their bike maintenance service.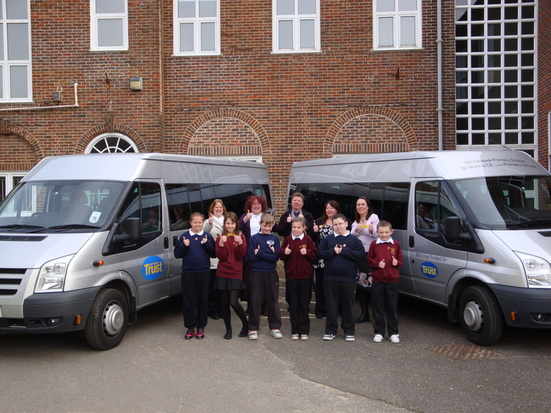 Moulsecoomb Primary (part funded) and Whitehawk & St Marks Primary (pooled funding)
for purchase of school minibuses - East Brighton Trust Impact Grants Programme.
Sometimes, applying for a grant can be complex and time consuming. So, we've done our best to make the process as easy as we can.
| | |
| --- | --- |
| | Partnership Grant |
| Amount | A fixed amount per year for up to 3 years. |
| Frequency | Grants for 2016/17 have already been awarded. If you wish to stay up to date on our grant funding programme, please register for our email newsletter. |
| Purpose | To help cover the "core costs" (i.e. rent, salary etc) of a new or existing project, scheme or initiative. |
| Eligibility to apply | Applications only from those not already in receipt of a Partnership Grant.Only available to active not for profit organisations such as community / voluntary groups, charities, community interests companies, companies limited by guarantee etc.Not available to profit-making or statutory organisations. |